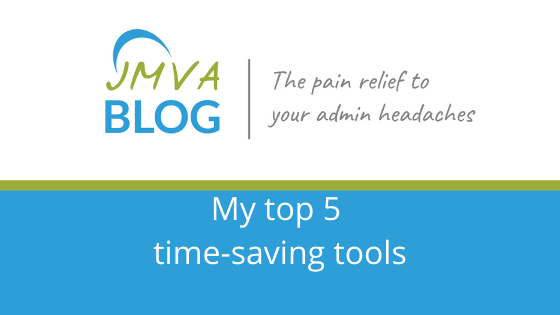 The most precious commodity in business is time. Virtual assistants have multiple clients and a never-ending list of tasks we need to get done in the most efficient way. Here are the top 5 products within my toolkit, that keep me on schedule in the most efficient way.

Organisation: Todoist
For those who love a list, Todoist is a task management app that keeps you and your projects organised and accountable. You create to do lists that include due dates and reminders, enabling you to prioritise tasks and track your own progress. Once completed you can tick them off or give them a recurring due date. When you complete a recurring task, it will automatically reset for the next due date. For example, if you need to send out an attendee list on the same day each month, you can set this as a recurring event, so you never lose the action.
You can share projects with other users and use this tool to convert emails from others into tasks, make comments relating to an existing project and set reminders to arrive by email enabling you to properly plan each day.
What I like most: Todoist is a simple and straightforward to use and keeps you organised.

Data Storage: Dropbox
Working with clients where you need to move files back and forth can be a complicated experience. A far better way is to invite clients to collaborate and join certain folders using Dropbox which allows you to store all your content in a central location, share files, and find any content you need quickly and effortlessly.
Every time you or your client makes changes they will be saved and synced across all accounts, ensuring all work is backed up and leaving no doubt as to which version is being used at any one time. It is simple to setup and the generous amount of free storage space make this a great option for businesses who want the security of knowing their important documents are backed up at the same time.
What I like most: Files and documents can be easily shared and accessed with clients without having to use email and all your work is backed up.

Productivity: Xero

Xero is an online accounting software designed for small businesses. It enables you to automate key functions and put a process around those that you can't. You can use it to reconcile accounts, send and process purchase orders and invoices, accept payments, manage bills and create expense claims. With it you can produce financial statements and balance sheets so you can fully automate your financial reporting. As a VA it allows me to keep businesses updated on a regular basis.
What I like most: Xero is totally scalable, you can up or downgrade your plan at any point and it can grow as and when you need it with many options in terms of size and functionality.

Time Management: Toggl

This is my go-to for time tracking work for my clients. It is fantastic because it allows you to break down your data in various ways so you can see exactly how you are spending your time. By setting up multiple projects for each client, it provides not only a total of the work completed, but a breakdown by project as well. You can download your reports and send them on to your clients at regular intervals so you can have full transparency in showing them how you have spent your time each week/month.
Toggl provides a lot of flexibility by offering multiple ways to track time including a timer mode, manual mode and calendar mode. The free plan covers your basic time-tracking needs including designating projects by client and recording the type of task for each timed activity.
What I like most: Toggl is intuitive and easy-to-use. It gives you the tools to easily track the time you spend on tasks.

Project Management: Trello

Trello is an excellent platform for project sharing and a great way to communicate with clients. It is a visual collaboration tool for organising work. You create boards for each project which are shared with those working on the project and allocate tasks accordingly. You then generate lists for the different stages of the project and within these you can add cards with checklists, labels, due dates etc. You can attach any specific files required as well. If I am scheduling blog posts for a client, I can use Trello to create a template card for a post and my client can add in the content that I need to schedule.
What I like most: Trello is a visual tool great for organising, coordinating and tracking work.
I hope you have enjoyed my round up of my most-loved time-saving tools. I would love to hear what your top 5, or must have tools/apps are jill@jmva.co.uk