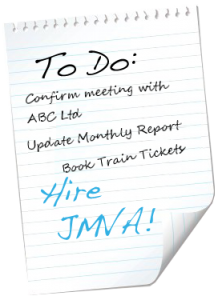 Why use JMVA?
Do YOU spend more time on admin tasks than on actually running your business? Are YOUR evenings and weekends taken up with catching up on paperwork? Does YOUR day feel like a hectic blur? You can take control of your time by outsourcing your admin tasks to a Virtual Admin Assistants.
What does JMVA do?
A VA (Virtual Assistant) will, by delegating your admin tasks, be able to organise your diary to maximise your time, manage your emails, manage your travel bookings, compile presentations, format and collate reports– the list goes on... the main aim is that we give you your time back!
When to use JMVA?
The main benefit of using a VA is that there are no overheads involved! Dependent on how you wish to budget for JMVA's services, we can offer an hourly rate or a monthly retainer fee. You only pay for the time that you need assistance.