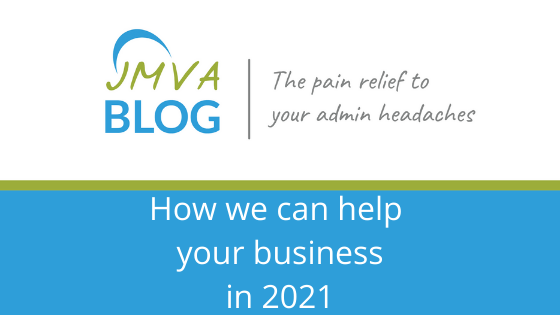 At JMVA we are excited to be celebrating our anniversary! We have been providing efficient and expert VA services to our clients for 12 years this month!
Yes, it has been challenging at times, but it is always rewarding and satisfying to know that we are helping them to be more effective and able to focus on the core needs of their businesses.
I thought it would be helpful to explain some of the types of tasks we are asked to do as well as the variety of businesses we help. As you will see these range from diary and email management, through to customer service, invoice processing and general office admin – there is no end to what we can do to give you back your time!
Collating lists of attendees for training courses including all communications around payment, preparation for courses and collation of feedback – Social Media Trainer
Management of attendee lists for networking meetings, communications around meetings and membership renewals, reconciliation of bank accounts and social media postings – Regional Directors, National Networking Organisation
Management of all consultant contracts, travel, accommodation and visas; diary management and other PA duties for Senior Directors – Defence Training Organisation
Point of contact for clients including COVID-19 forms to be completed prior to consultations, newsletter communications – Medical tattooist
Point of contact for enquiries, contract creation and preparation for events – Speaker/compere
PA duties including diary, travel and point of contact for general and agency enquiries, pre- and post-event communications – International speaker (F1 background)
Management of membership – Karate club
General administration including invoicing, searches for conflict of trademarks, registering company trademarks – Trademark Attorney
Point of contact for students and venues – Artist/tutor
Social media management, invoicing, general admins duties – Dietitian
Uploading of blogs to websites and posting on social media platforms including all social media management – Marketing consultant and a Leadership Trainer
I am happy to say that we don't have to do all these different tasks at any one time, even if it may sometimes feel like it! There is a vast array of assignments that we can do for busy professionals, and the work can be as much or as little as needs be.
We focus on performing specific tasks designated by you and give you peace of mind that these are in safe hands. Our assistance is about providing you with solutions, so that we can help to improve the efficiency of your systems and processes enabling you to make better use of your time and focus on the bigger picture.
JMVA specialises in virtual administrative and personal assistance. We are known for our reliability, skills and expertise and thrive on helping businesses to be more productive. So,
– if you are spending too much time on administrative tasks that are distracting you from other things that matter to your business
– if your business requires skills you don't have which will improve your productivity and efficiency
– if you are looking for a better work-life balance so you can spend time on other important things outside of work
then contact us today to find out how we could work together.